Testimonials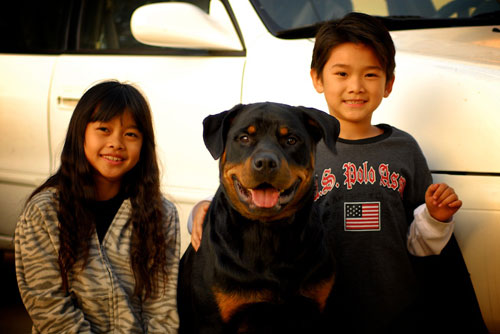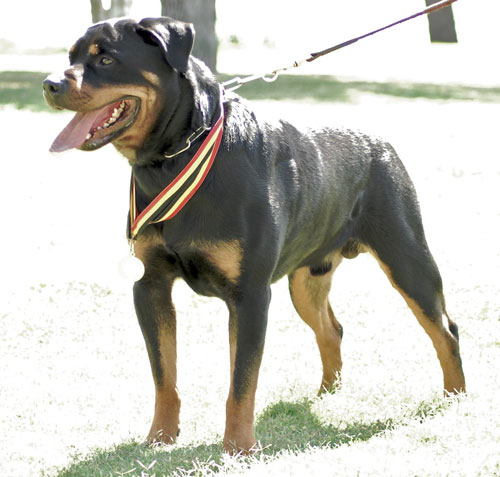 Our dog Blitz is a high drive, Type A personality dog, an offspring of two Pink papered German imports; both of whom had high drives as well. We needed a positive way to channel this great energy so we sought out the help of Brigitte. We wanted an obedient and reliable family member, yet one who is capable of doing protection sports such as Schutzhund and Protection Sports Association (PSA). Brigitte trained him in drive, infused with well-timed corrections, producing a young pup that was dependable yet fearless. She achieved a balance not many dog trainers are capable of.
But there was something really special that we saw in Blitz, which was how much he loved Brigitte. He would literally "scream" and go nuts at the sight of her, and pull on his leash as she would approach him. This was first hand experience of how positive Brigitte's system is, and also first hand visuals of how much "her" dogs love her.
Brigitte also helped Blitz garner his Youth National and International Conformation titles, winning Best of Breed two times, and Third place Best in Show as his handler. This with less than a week's training! After a couple of years, I hastily and reluctantly entered Blitz as an adult at the International Sieger Show to try to get his Adult Conformation Ratings. Again with about a week's training and armed with Brigitte's guidance, we gained multiple V-1 ratings, multiple Best of Breed titles, and his International Sieger Championship with me as the handler.
So be it obedience, protection, show, or behavioral modification, Brigitte is the person to go to for your dog training needs. Well respected and loved by her clients, she is also known and well respected by her peers in the dog training community. Learning from her was my first exposure to training in drive; coupled with precise guidance and corrections, our Blitz is a very happy and eager to please working dog. If you want to see the true and full potential of your dog, take him or her to Brigitte, the precise and loving German trainer. If you want to be a pack leader, there is no one better to come to, regardless of the breed of your dog. We can't wait for new adventures with Brigitte as we search for our next dog.
Kate and Patrick Reyes
Glendora, CA
---
Brigitte has the experience, as well as an innate ability to adapt her training methods to the needs and temperament of any dog, this is truly a gift. She is always professional, conscientious and has your dog's best interest at heart. You couldn't ask for a better individual to train and work with your dog.
We have chosen to board our dog with her, many times, and I can honestly say that when we drive away... we don't have a worry in the world; we know that our dog will be treated just like we would treat them at home. She doesn't just leave them in kennels, she provides an experience for each and every dog, she always goes the extra mile... it's a wonderful vacation for our dog. We are very grateful that, we can rely on and trust Brigitte for all of our needs... over the years we have been able to develop a wonderful friendship with Brigitte... she is absolutely the best!!!
April Karkstens
---
Brigitte Shaw is an extremely skilled and talented trainer/handler. Her vast experience working with noted trainers in Germany and the U.S. is evident in her superior dog handling capabilities.
Brigitte's innate ability to assess each dog's special needs enables her to tailor a training program designed for your dog. Her gentle yet firm instruction achieves precise, correct results without the use of harsh or stressful methods. Dogs respond to Brigitte.
From our Rottweilers to our Cockapoo, strictly family pet to titled, we trust no one but Brigitte Shaw with the care and instruction of our dogs.
Jim and Joan Kennah
Anaheim Hills, Ca
---
My husband and I were introduced to Brigitte Shaw after we got our Rottweiler puppy, Lily, from a breeder in 2006. Lily had just turned 4 months when we were in desperate need of some 'help' for her behavior! I called Brigitte and she spoke to me on the phone for almost an hour. She did not ask about money or compensation in any way. She just heard the desperation in my voice and talked me through some training exercises until she could set up a meeting. I was already impressed with her knowledge of this breed and since this was my second Rottweiler, I knew she knew what she was talking about.
She came to our home (approximately 60 miles from her) and met 'Lily'. We saw instantly that Brigitte was an expert when it came to obedience training. We set up a schedule for Lily to stay with Brigitte for a few weeks and then the training would continue in our home. When she came to our home, she listened to us and I mean really listened. She even spoke with my husband and me separately to see if there were any dynamics that she should be aware of. That is a thorough evaluation! We learned that if we hired Brigitte for her services they would be for the life of the dog. In other words, I can't tell you how many times we called with 'panic' questions and she listened and gave us feedback.
We did this routine twice up until Lily was 1. As the years went on, we started to slip in our part of the obedience training and I again had to call Brigitte in a panic when Lily bit me during a feeding. I was crying and very upset at how she had gotten the best of me. Lily once again went to stay with Brigitte for 2 weeks and then the training continued in our home. This was only 9 months ago. When Lily came home she was a changed dog, as were we, as a family. Brigitte wanted the whole family involved in the training and that proved to be invaluable. This included my two teenage children.
Lily went through TWO knee surgeries and the recovery was extensive. My husband and I both were working so we could not devote the time to the recovery that was needed. Brigitte handled both of these recoveries and I can say that it was intense. She was incredibly patient and loving in the face of some very tough weeks with Lily.
Sadly, our precious Lily passed away on December 14, 2010. I am proud to say that she NEVER reverted back to her old behaviors up until the day she died.
Brigitte was such a valuable addition to our 'family' that we left Lily with her whenever we went away and that was at least 3 times per year. The accommodations Lily enjoyed were indescribable. We used to say that Lily was on 'vacation' too! Brigitte loved Lily like she was her own and when I would call to check on her, Brigitte would talk like she was her own. We loved Lily and we were so grateful for this kind of care. I have had many dogs, and can say honestly that I would never chose another trainer OR boarding facility in the future.
I know that I speak for my husband and my whole family when I say that Brigitte is a kind and loving individual who is an expert at dog obedience. She just knows how to get it done. I have and would continue to recommend her to anyone who needs 'serious' training and wants the training to be practical and hands on.
Brigitte is still dear to us and she has maintained contact with us since Lily's passing to see how we are holding up.
I will close by saying that Brigitte was named in our Living Trust as the caretaker of Lily should something happen to us. That's how sure of her love for Lily we were.
Sincerely,


Lori & Charles Spinella & family.
RIP LILY